Before You Clink, Protect Your Drink!™
Did you know that 1 in 4 people are drugged without their knowledge?*
This is serious... Now more than ever, it is so important to protect your drink from unwanted contaminants. Our product's snap-lock material and proprietary design offers the most protection possible so you can now enjoy your drink and feel safer!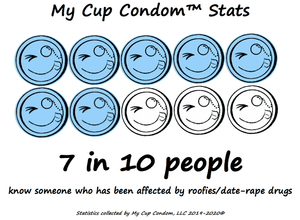 Did you know that 7 in 10 people know someone who has been roofied?*
This is scary... but now, it is preventable. Prevent the risks and dangers of drinking out of an open beverage container with a cup condom!
ATTENTION: This website is the only website to purchase My Cup Condom™ that is owned by My Cup Condom LLC (aside from the Amazon listing under the brand CAVEO). Any other website claiming to be My Cup Condom™ and/or sell the product My Cup Condom™ is fraudulent and/or copyright infringement and My Cup Condom LLC is and will not be liable for any expenses and/or damages that may arise.